Events And News
The Kings County Seniors' Safety Society is pleased to announce that Patricia (Trishe) Colman accepted a temporary position as our Program Coordinator. Trishe took on the role as long-time Coordinator Michelle Parker moved to a position with one of our community partners.



Trishe can be reached:
902-670-0725







Provincial Housing Supports

Programs include:
-- Senior Citizens Assistance Program and Provincial Housing Emergency Repair Program: grants up to $6,500
-- Residential (Homeowner) Rehabilitation Assistance Program: forgivable loans up to $18,000
-- Disability Residential Rehabilitation Assistance Program: forgivable loans up to $16,000
-- Emergency Repair Program: grants up to $7,000
-- Home Adaptations for Seniors' Independence: forgivable loans and grants up to $3,500
-- Access-A-Home Program: grants up to $7,000.

CLICK HERE TO LEARN MORE



November 4 ... 11:30-2:30

Berwick Fire Hall





October 1-2 ... 9:00-4:00
Kingston Fire Hall


Thursday, May 19th ... 8:30-3:00
Camp Brigadoon, Aylesford Lake
Transportation available if needed
Questions: 902-679-5555 / 902-542-3817
Register:
This email address is being protected from spambots. You need JavaScript enabled to view it.
/ 902-670-0950
**vaccination required*










































This event is for seniors ONLY. Please no businesses. Thank-you.





How Good Is YOUR

Memory?
If you are an isolated or semi-isolated Kings County senior, we have put together a special "Community Safety Kit" for you. To receive yours, simply call our Seniors Connection Line (902-670-0950) and speak with Robin.






Your Very Own Grow Kit



During these challenging times, we need to make sure we care for our mental health while protecting our physical health.
We have partnered with Kingston Greenwood Mental Health Association and Berwick Community Gardens to make Grow Kits for seniors struggling with mental health and isolation.
If you or someone you know could use an extra little pick me up, give us a call! (Contactless deliveries will be made in accordance with all public health guidelines and protocols).




Our Scam Alert Card



Check out this great partnership initiative Seniors' Safety Programs have with the RCMP for Fraud Prevention Month! We have developed this Scam Alert Card to help raise awareness of gift card scams. If your business would like to get involved and help spread the word, Scam Alert Cards are available by calling our Program Coordinator, Michelle Parker at the Wolfville RCMP Detachment 902-542-3817.







FREE Hot Chocolate



"No act of kindness, no matter how small, is ever wasted." - Aesop
On a chilly afternoon in Wolfville, the KCSSS was giving out FREE Hot Chocolate with Kings RCMP.
.
Town of Wolfville: Congratulations and thanks Wolfville - you 'crammed' 3 vehicles with gently used winter gear today outside the Fire Hall, all to be donated to Open Arms! (Wolfville Fire Chief, Todd Crowell, Constable Jennifer Britton and Seniors Safety Coordinator, Michelle Parker pictured here cramming it in!)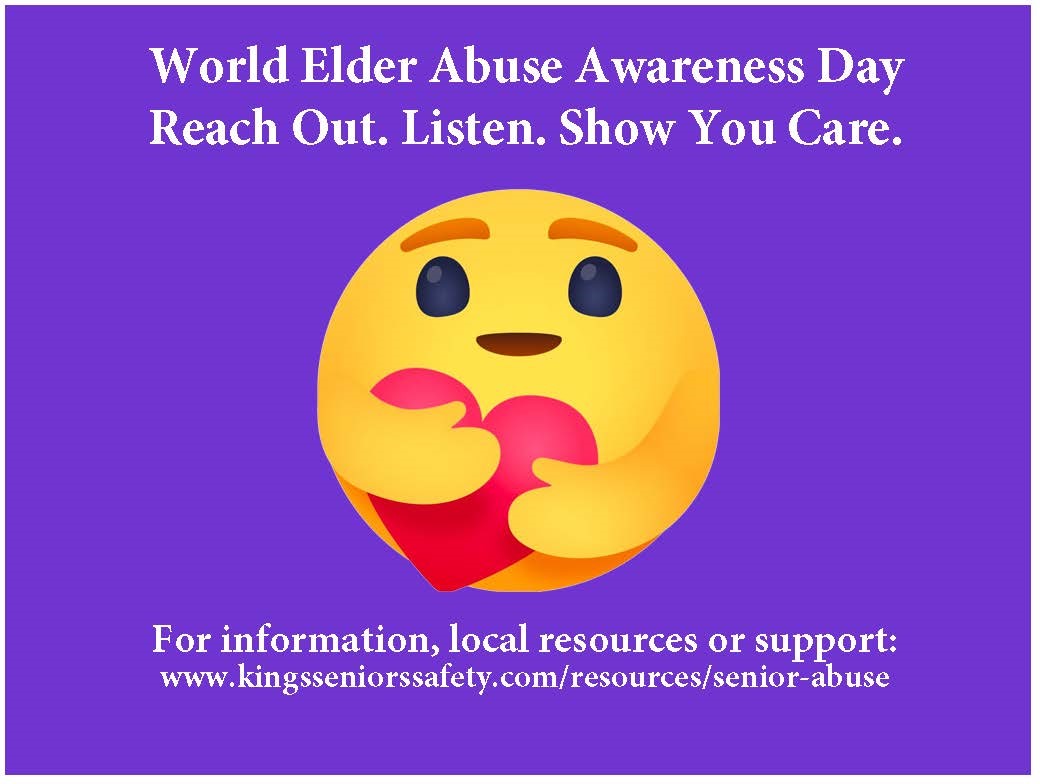 Kings County Seniors' Safety Society Helps to make "fidget quilts" a reality
To Read More Click Here
"Senior Abuse Awareness"



Board Members, Funding Partners, Liaison Contacts and the Program Coordinator took time at the AGM of the KCSSS Board in June to promote one of the program projects addressing Senior Abuse Awareness.
"Fraud Chat" ~ March 14, 2019
Seniors are living longer and many are choosing to remain in their own homes as long as possible. Along with this trend comes the need for programs focused on providing for the safety, security and well-being needs of this fast-growing and significant-sized population.
Read The Article from the Valley Harvester, December 17, 2018